There is something so magical about ice skating. It makes the wonder of the holiday season that much more magical. If you are looking for ice skating in Phoenix this holiday season we have got you covered!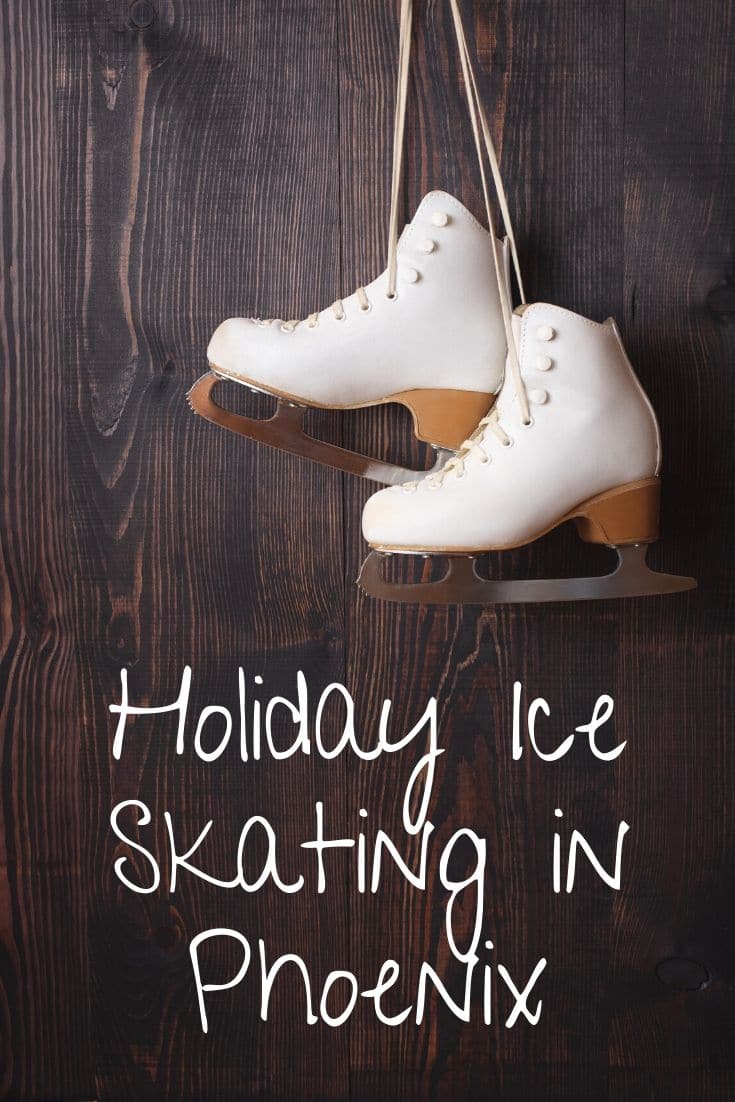 Holiday Ice Skating in Phoenix!
When the holidays roll around we are all looking for great ways to entertain our kids, our friends, and even loved ones when they come to visit. Here in Phoenix we are extra lucky because there is something amazing happening! There is holiday ice skating in Phoenix…let's take a closer look and learn more about this fun tradition.
Dust off those ice skates, it's time to turn your world into a scene from one of your favorite holiday movies! Partake in the timeless holiday tradition of ice skating on Westgate's real ice rink. Back again this year is the ever-popular, horse-drawn carriage rides that are free to all guests. Adding even more magic to the holidays, snowfall happens twice nightly and Santa Claus is on-hand to listen to Christmas wishes.
This fun tradition runs from November 24, 2019 to January 12, 2020 and is open at 11am each day. Pricing is as follows:
$15 includes skate rental
$12 if you are brining your own skates
$12 toddlers and includes double bladed skate rental
$12 military with ID
$99 Season Pass which includes admission and skate rentals
Everyone is welcome from beginners to pros! There's more than 3,300 square feet of ice in the heart of Westgate at Fountain Park and during the holidays it's a magical tradition that the whole family will love. You have to take at least one trip this year to celebrate the holidays.
Get into the spirit of winter by skating on a real ice rink in the heart of downtown Phoenix. Central Avenue is transformed into an ice skater's dream, decorated with a massive holiday tree and thousands of twinkling lights.
CitySkate is set up from November 26, 2019 to January 5, 2020 so make sure you head down there and get in some skating time before it's gone!
It's $15 to enter and you get $5 off with a senior or military ID, children under 8 are also included in this deal, children under 5 are free!
Here's the schedule that's posted on their website so you can check it out and plan accordingly: 
Through December 15th
Monday-Thursday
Session 1: 5PM – 7:30PM
Session 2: 8PM – 11PM
Friday-Sunday
Session 1: 3PM – 5PM
Session 2: 5:30PM – 7:30PM
Session 3: 8PM – 11PM
December 16th – January 5th
Daily
Session 1: 3PM – 5PM
Session 2: 5:30PM – 7:30PM
Session 3: 8PM – 11PM
Christmas Eve
Session 1: 3PM – 5PM
Session 2: 5:30PM – 7:00PM
Looking at option for Phoenix Living?
The Place at Sonoran Trails & The Place at Wickertree are awesome choices for Phoenix apartments. There are no breed or sizing restrictions for pets, plenty of amenities for everyone to enjoy, and loads of apartment upgrades you won't find anywhere else.
If you are looking for a new place to call home here in Phoenix, we'd love to have you join our MCLife Communities here! Give us a call today to learn more about sizing, pricing, and layouts that are available now!
Need to get out of your Phoenix apartments and explore?
Phoenix living is exciting! There is always something new and fun to explore and check out. Here are some more posts about living in Phoenix that you will love: